In June the UK government presented its delivery plan for 2014 – 2015. LNE Group examines what opportunities exist for industry stakeholders with an interest in securing government funding for their technology development.
The UK's Technology Strategy Board (TSB), the government agency for innovation funding and grants, has recently published its Delivery Plan for 2014-15. In this 70 page document, it outlines what it intends to do over the next 12 months, and how it intends to do it.
The TSB has several ways that it provides support for businesses, including networking events, mentoring, and providing access to expertise, and it uses these to help businesses across most sectors. However, its primary mechanism is research & development competitive grant schemes for innovative projects.
Looking at its new delivery plan, the TSB is both building on the above areas that it has used to support businesses before, as well as introducing new methods of helping UK companies. The main areas that are interesting are its growing focus on its 'catapult' system, the ever increasing support of small and medium sized business, and the business sectors it is concentrating on for R&D grants.
Research and Development grants
The TSB is going to commit to another 88 funding competitions for R&D projects in 2014-15, and is budgeted to provide £421m of funding.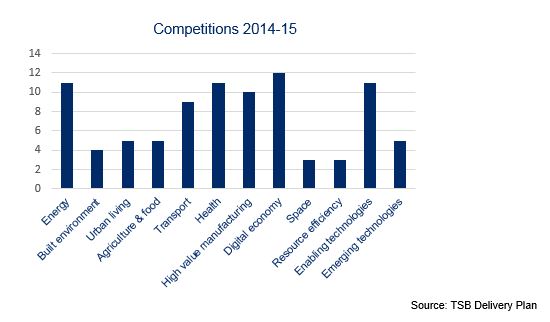 The areas above that have the highest budgets are also those that have the most competitions: Energy (£83m), High Value Manufacturing (£72m), Healthcare (£80m) and Transport (£70m). This gives a clear steer as to what the TSB's focus will be on for the next 12 months.
The exception is interesting; Digital economy. While it has the most competitions (12), has relatively a modest budget of £42 million, suggesting lower value, smaller projects will be supported. Equally, Urban living's budget of £62m shows that its R&D competitions will be few, but of large value.
The 88 schemes will be released through the course of the year, and will provide a range of different types of research projects with the opportunity to be funded. They are typically projects involving collaborative partnerships between business and academia and aim to reduce monetary and technical risk.
The Catapult system
A catapult is a physical centre run by the TSB where businesses, scientists and engineers work side by side on late-stage research and development, in order to turn potential ideas into new products and services. They help businesses to adopt, develop and exploit innovative products and technologies, offering expertise, access to cutting-edge equipment and specialist facilities to develop and test ideas.
There are currently 13 such centres located across the country, but in the next year, 2 further ones will be added – in Precision Medicine and Energy Systems. Where these will be located has yet to be confirmed – although where they will be is likely to be based on 2 factors: one, where current expertise resides, and two, where there are currently no catapults based. These, along with the government's wider 'rebalancing the economy' strategy, may mean that the Northwest of England is a location to keep an eye on in the coming months.
Small and medium sized business
The coalition government in the UK has held great store by its commitment to supporting smaller business throughout the course of this parliament, and in the lead-up to the 2015 election the signs are it will continue to do so.
The TSB has a 'SMART' funding mechanism for UK-based pre-start-ups, start-ups, micro businesses and SMEs, to carry out science, engineering and technology R&D projects which could lead to successful new products, processes and services. The 2014-15 delivery programme outlines that it will increase by at least £50m funding for the SMART programme. It will also specifically run new 'Launchpad' competitions, providing support to SME clusters in internet businesses in London, healthcare technology businesses in Wales and manufacturing process industry businesses in the North East.