On 6-October 2017 the Cleveland-Cuyahoga County Port Authority signed a historic Memorandum of Understanding with the Maritime Administration of Cuba to outline ways the two organizations can work together to advance trade relations between Cuba and the Great Lakes region.
Port of Cleveland officials were very pleased to be initiating this relationship and look forward to working with the maritime administration to nurture and develop commercial and cultural exchange for many years to come.  Darrell McNair, chair of the Port Authority board of directors, said the agreement was "a great opportunity to promote trade between Ohio and Cuban companies."
The combined GDP of the eight states and two provinces that border the Great Lakes comprises a U.S. $5.7 trillion economy and if a stand-alone country would rank as the third largest economy in the world.  Ohio is the eighth largest exporting state in the U.S. with approximately $50 billion in exports annually and ranks in the top ten of U.S. maritime states with more than 100 million tons of waterborne commerce shipped annually.  Mr. McNair said he "expected new commercial possibilities" even though he understands "there are challenges for the development of trade with Cuba."
Read more in a Crain's Cleveland Business story by Jay Miller
LNE Group's Strategic Advisory practice specializes in market intelligence and strategy development.  We help companies set achievable goals, craft strategies, and devise winning plans to pursue new commercial opportunities. Our Cuban Market Entry services include:
Strategic Assessment – Undertaking a rigorous strategic assessment of our clients' goals, including export, sales, and investment opportunities.
U.S. Regulatory Analysis – Researching and advising on the U.S. regulatory framework to obtain permission to export and/or investment in Cuba.
Cuban Regulatory Analysis – Working with clients to manage the regulatory requirements involving the Cuban government.
Financing Options – Developing financing options to help facilitate sales and new business.
On-Site Analysis – Organizing visits to Cuba focused on making strategic connections for our clients.
Please contact us:
Jason M. Smith
Vice President, Director of Strategic Advisory
Phone: (216) 781-9000 ext. 110
E-Mail: jsmith@lnegroup.com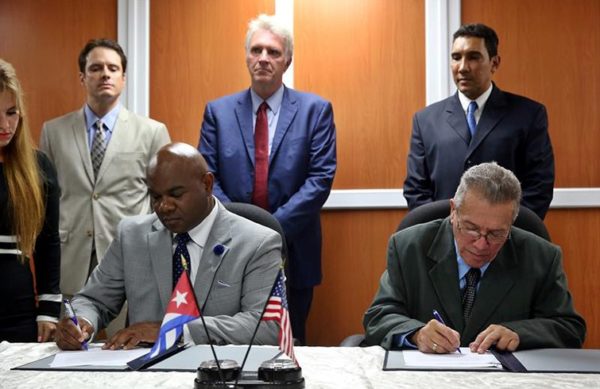 Darrell McNair (seated left), chair of the Port Authority board of directors, and José Joaquín Prado Falero (seated right), general director of the Maritime Administration of Cuba, sign a Memorandum of Understanding on October 6th in Havana, Cuba.  Photo: Alejandro Ernesto / EFE.