The dedicated EU Horizon 2020 SME instrument supports close-to-market activities of small- to mid-size companies with the aim to give a strong boost to breakthrough innovation. Highly innovative SMEs with a clear commercial ambition and a potential for high growth and internationalisation are the prime target. Businesses eligible for funding have up to 250 employees with a maximum annual turnover of €50 million.
The SME Instrument offers small and medium-sized businesses the following:
Business innovation grants for feasibility assessment purposes (optional phase I): €50,000 (lump sum) per project (70% of total cost of the project);
Business innovation grants for innovation development & demonstration purposes (possible phase II): an amount in the indicative range of €500,000 and €2,5 million (70% of total cost of the project as a general rule);
Free-of-charge business coaching (optional) in order to support and enhance the firm's innovation capacity and help align the project to strategic business needs;
Access to a wide range of innovation support services and facilitated access to risk finance, to facilitate the commercial exploitation of the innovation.
Horizon 2020 SME instrument has a structure of three phases, each phase covering a different stage of the innovation cycle.
Phase 1: Concept & Feasibility Assessment
The Phase 1 is a proof-of-concept study assessing the feasibility and market potential of innovative ideas. The EU provides a grant of €50,000 for a study of 6 months maximum.
Phase 2: R&D, Demonstration and Market Replication
Phase 2 supports R&I activities with a focus on commercial potential demonstrative activities such as scale-up, piloting, performance verification, and testing. Phase 2 funding covers up to 70 % of eligible project costs, from €0.5 up to €2.5 million, for a duration of 1 to 2 years.
Phase 3: Commercialisation
In the third phase, the SME receives support in polishing the project to a marketable product. The support is provided through services such as networking, training, and access to coaching and mentoring. The EU will not provide any additional direct funding in the third phase.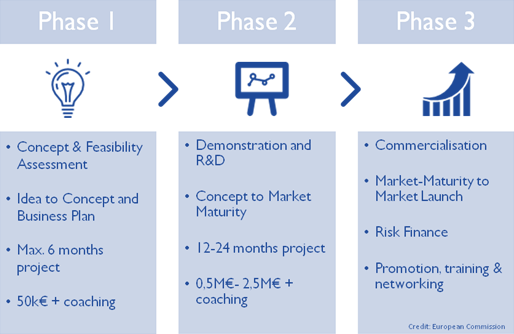 The SME instrument has four deadlines per year. The upcoming submission deadlines are:
For Phase 1 proposals:
November 7, 2017
February 8, 2018
May 3, 2018
September 5, 2018
November 7, 2018
For Phase 2 proposals:
October 18, 2017
January 10, 2018
March 14, 2018
May 23, 2018
October 10, 2018
Our Services Around the SME Instrument
For Small and Medium-Sized Enterprises around Europe, we offer grant writing and consulting services to turn an innovative idea into an outstanding funding application for the SME instrument. Specific services around the SME instrument include:

Our services are not provided on a no win-no fee basis. We have a strong belief that delivering high quality is only possible when services are valued and remunerated accordingly. However, we offer our clients flexible remuneration models with risk-sharing elements. Want to learn more? Get in touch with us today:
Your Contact:
Damian Borowski
direct: +49 30 206 715 712
mobile: +49 17 01 97 20 63
e-mail: dborowski@lnegroup.com
We understand how governments operate. We work closely with our clients in the U.S. and in Europe to set achievable goals and develop creative strategies to accomplish them.
We support client innovation by crafting the right story to secure public funding, connect to experienced value chain partners, and attract target customers.
We advance, protect, and promote client interests with a unique portfolio of strategic advisory solutions. We focus on our clients' most important issues and opportunities.